A woman's makeup kit is one of her most prized possessions. For a makeup artist, it's a beauty arsenal. Whether it's a small makeup bag or a suitcase of beauty weapons, many secrets are held within it. How do lashes get so long? (Falsies!) Did you lose some weight? (Contouring palette!) How did you get that glow? (Highlighter!)
Here, we've compiled a list of essential items that every woman and makeup artist needs in her (or his) vanity pack. Fora beginner, start with a simple foundation and build up your arsenal with time to always get that perfect look/finish.
These basics should be the foundation of your beauty arsenal. Consider this the ultimate basic makeup kit.

1. Concealer: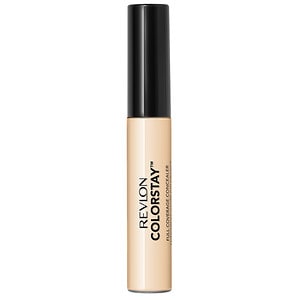 Concealer is the only way to get rid of dark circles and cover blemishes. And while it may just be a temporary fix, with the right technique you can hide them completely.
Tip: Apply a non-creasy eye cream, then use your ring finger to gently dab concealer onto dark areas. Allow it a minute to be absorbed, then carefully blend the edges into skin. The key is light pressure—if you rub too hard, you'll actually rub the product off.
2. Foundation:
Get a no-show foundation. The best way to find your perfect match is to leave it to the professionals. Stores usually have products for testing that you can try to find your perfect shade.
Tip: Try swiping a few colors vertically across your jawline, and whichever one is barely visible is your best bet. Foundation should be applied with your fingers. It's quicker and easier than using a sponge or brush. Simply dab the foundation onto the areas that need it most (ruddy cheeks, dark circles, uneven spots) and blend gently.
3. Blush:
Look for a warm tone to add a pop of colour to the apples of your cheeks. a natural blush. The right shade of blush will make you look like you're blushing, not like you're wearing blush.
Tip: For a natural look, start with lighter shades, and skip any with shimmer. Use a blush brush to swipe a small amount of color across the apples of your cheeks (the round section that sticks out when you smile). If you can see clearly where the blush begins or ends, you've used too much or the color is too dark.
4. Mascara:
A clump-free mascara is always a necessity. There's no better way to define your eyes than by enhancing your lashes. For conservatives (or beginners), you can stick with basic black (or dark brown). Mascara thickens as it's exposed to air over time, which leads to clumps. If yours is sticky, throw it away! Or try a different brand.
Tip: To get the best out of mascara's they should be change as often as every six months. Curl lashes first, then press the mascara wand against your lashes, steering clear of lids. As you move the wand up toward the lash tips, gently wiggle it back and forth in a zigzag motion, which helps ensure you hit every lash.
5. Eye Liner
Eyes are sensitive, and probably don't take kindly to us slathering them with makeup—especially on the sensitive rims and inner lash lines. Always use a soft pencil that glides on without any pressure or tugging, and be sure the product is labeled as ophthalmologist-tested.
Tip: You can use your darker shade of eye shadow as a liner along the lashes – or use a dark brown or black pencil to create a thin line that will define and enhance your eyes. When lining your upper lash line, press a finger gently against your brow bone to pull up the lid slightly. This makes the skin slightly taught and helps you get closer to the lashes. Use your other hand to "dot" the liner across the tops of lashes.
6. Lipstick
How about some color? Lipstick (or gloss, if you are conservative, gives your look a VA-VA- VOOM!
Tip: Chapped lips should be taken care of before you even think of applying lipstick. Wear a thick layer to bed and wake up to softer lips in the morning.
7. Eyeshadow
Neutral or defining eyeshadow basic, flattering eyeshadow should be part of your arsenal! Some eyeshadows barely show up; others make us look like you're headed to a circus, choose wisely! The perfect everyday shadow is just a few shades darker than your skin tone — think a soft plum or light brown for darker skin, a taupey-gray or golden beige for medium skin, or light apricot for fair skin.
Tip: Use a soft eyeshadow brush to sweep shadow across lids, blending into and just above creases. Make sure to use light, feathery strokes so that there are no hard lines.
8. A Good set of Brushes
With the right brush for the job, you can perform makeup miracles. (You don't see professional makeup artists using the tiny sponge applicators that come with the products!) Invest in a good brush set.
Tip: Remember to clean brushes every so often to keep bacteria at bay and makeup colors fresh. You can buy brush cleaners at department and cosmetic stores, or dilute a gentle soap or baby shampoo in warm water and soak brushes in that.
9. An allover highlighter
A slightly shimmery cream highlighter has many uses—from lifting your brows to slimming your nose to sculpting your cheeks. Choose a soft nude, peach, or pink for the most versatility.
Tip: To visually slim your nose, use your pinky to trace a thin line of highlighter down the length of the bone, then blend. To make cheekbones pop, gently blend highlighter across the tops of your cheeks, right above your blush
10. Tweezers
Clean up any stray hairs around your brows that sprout up in between brow appointments. You could learn to sharpen your brows yourself.
Tip: On the other hand, many women and Make Up artists use blades. Choose what works for you.
Extra Tip: Translucent powder: A quick, light dusting of powder sets makeup and controls shine.

Image Credit: Google images